Restaurants & Bars & Banquet room



To delight the eye as much as the palate, we arrange seasonal tastes in delicate Japanese style on traditional Arita-ware.

Enjoying the best foods at their best, the season of the year is the prime factor in Japanese cuisine.

In highly artistic and elegant room, taste reasonable set lunches or creative original Japanese dishes, and delight seasons of Japan.In the beautiful garden, where stone lanterns are placed…

A separate room opens to Japanese garden is available. Share the beauty of the sight at the day and the night.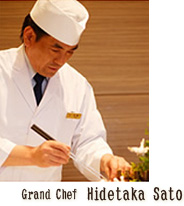 Mastery of Japanese cuisine, Sato had improved his career at high-class Japanese restaurants in Osaka where, once said central kitchen of the nation, then he played important roles in famous Japanese inns and hotels. His works are always highly-esteemed for a delicate art on the fusion of Japanese styles and Western styles.His motto is to serve surprise to guests through bring out the natural taste of the ingredients without too much cooking, and beauty of the display and arrangement of the food in season sense.

●Prix Fix Lunch "Mai" ¥2,500-
As you open drawers one by one, a cuisine appears. An elegant and a fancy lunch served with traditional Japanese lunch box.
●Prix Fix Dinner course "Chef's special of the day" ¥5,400-
Dishes of in-season ingredients are served from the sensitivity of the Grand chef. Menu changes every month.

Open hour
[Lunch]Weekdays/11:30-14:00 (Last call 13:30)
Weekends and Holidays/11:00-14:30 (Last call 14:00)
[Dinner]17:30-21:30(Last call 21:00)
Seating Capacity
64 seats
Location
Main Building1F



Restaurant "Natura", offers an original and creative cuisine full of selected materials and seasonal greens.You can relish seasonal and home-style tastes which nature has bestowed upon people.
Choose your favorites from variety of dishes in our menu.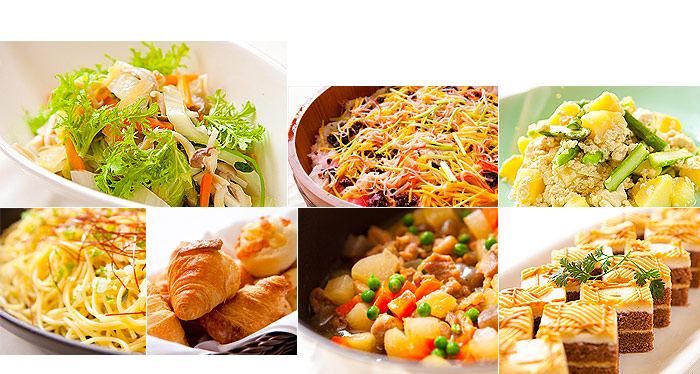 ●Tasty vegetables
Dishes with seasonal vegetables are cooked focusing on natural aspect of foods such as "just a touch of sweetness" or freshness.
●Wooden decor makes you may feel sense of warmth.
The warmth preserved by a wooden interior decoration creates a calm atmosphere in which to savor our dishes made with all natural.

Open hour
Weekdays/11:30-15:00(Last call 13:30)
Weekends and Holidays/11:00-15:00(Last call 14:00)
Seating Capacity
80 seats
Location
Annex1F

Crane Cafe, a bright and cheerful coffee shop. Enjoy freshly-brewed coffee, soft drinks and irresistible selection of sweets, in relaxing atmosphere.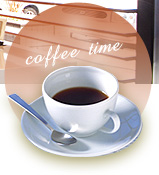 | | |
| --- | --- |
| Open hour | 9:00-18:00 |
| Seating Capacity | 26 seats |
| Location | Main Building1F |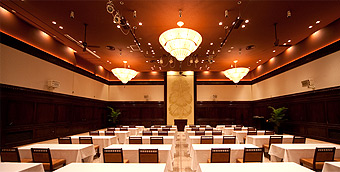 Main banquet room is very spacious with ceiling height at 6m/20 ft, with floor at 552 sqm/6,000 sqft. Artistic lighting and reliefs of palm trees provide a cozy atmosphere.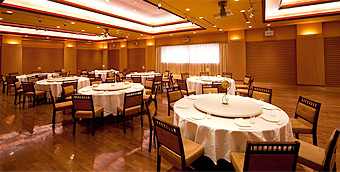 Homey and warm atmosphere, medium scale banquet, "The terrace room", still it offers sophisticated and chic sense against daily life.
"HIKARI" Room is spacious soft light-drenched which accommodates 600 people in case of standing party or reception. A sophisticated, elegant and simple room setting is easily adjustable according to the purpose of the gatherings. The most advanced lighting technology and dramatic lighting techniques are available to help impressing attendants.
The 2nd floor is gentle light-drenched spacious hall. The 3rd floor is homey atmosphere suitable for "House wedding". According to your request, you can select banquet halls. And also, hair & makeup salon to help bride's dressing and makeup and Photo studio with professional camera crew are available.

Banquet Name
Floor area
ceiling height
Capacity (no. of persons)
sqm
3.3sqm/36sqft
m
Reception
Dinner
Classroom
Theater
Main Building2F
"HIKARI" Room
561
169
7.0
600
380
400
800
"FUJI" Room
112
34
3.5
75
40
60
110
"TAKE" Room
56
17
3.5
40
20
30
50
Main Building3F
"The terrace room"
253
76
4.0
250
150
210
250
Lavandula multifida
39
12
3.5
─
14
18
25
Lemongrass
33
10
3.5
─
10
12
20
Annex2F
"SAKURA" Room AB
180
54
3.5
─
80
─
─
"SAKURA" Room B
91
27
3.5
─
40
─
─
"SAKURA" Room A
89
27
3.5
─
40
─
─
KIZUNA
121
36
3.5
80
50
80
130
Annex3F
"MATSU" Room
80
24
3.0
─
28
─
─
"UME" Room
51
15
3.0
─
28
─
─
"MOMO" Room
43
13
3.0
─
16
─
─
"TSUBAKI" Room
43
13
3.0
─
16
─
─
"KAEDE" Room
27
8
3.0
─
10
─
─